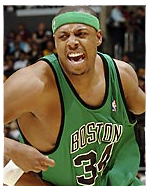 Musical free agent chairs my Vincent Askew. So far more things have remained the same into the second day of the NBA free agency lollapalooza. Following that trend this morning was Paul Pierce who inked a brand new shiny four-year deal with the only team he has ever known, the Boston Celtics. Drink to that Gang Green!
Earlier this week, Pierce oped out of his contract to become an unrestricted free agent, and by resigning a new deal with the Celtics. The captain is thought to be leaving money on the table to keep it green.
Under Pierce's old deal, he was guaranteed to make $21.5 million in 2010-11. Financial details of his new deal have not been released, however only the first three years of his new deal are fully guaranteed.
Things seem to be falling in place for the C's as recently head coach Doc Rivers also agreed to come back.