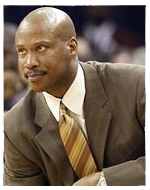 More free agency madness dominoes are dropping, but this time it was from the coaching ranks where if you are unemployed you're kinda like a free agent too.
Last seen on the Hornets sideline until he was pink slipped, the Cleveland Cavaliers have inked Byron Scott to a reported three-year deal to replaced coach of the year Mike Brown who got pinky a few weeks after the Cavs got bounced from the playoffs by the Boston Celtics.
Bryon Scott has a career coaching record of 352-355 and 33-24 in the postseason with the Nets and Hornets and took New Jersey to the finals twice.
Will this help keep LeBron? I still have no clue.