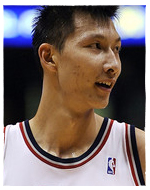 Do you guys remember when Yi Jianlian entered to draft and he was all like dudes I only wanna play for a team in a big market blah, blah, blah?
Well, it's been three years since he was drafted and he's now on his third team since the Nets traded him to the Wizards for Quinton Ross. Normally that's bad, but since basketball in China is exploding in popularity on a Justin Bieber level with 14-year olds. Landing Yi could mean more dolla, dolla, bills ya'll for the Wiz.
"It's the Great Wall of Chinatown," Wizards President Ernie Grunfeld said, before being informed that the team's top draft pick already has assumed that nickname. The addition of Yi does open up opportunities in China for the Wizards.

"I don't think we're concerned about the marketing aspect," Grunfeld said. "I think we're much more concerned with the player that we're getting. [Yi] may not have found the right situation, but he's put up some good numbers and he's had some good experience. Our plan all along is to get young players, build with the draft, and this fits into our plan."
Combined with addition of rookie John Wall and the demand to see some Yi in China. The opportunity to watch the Wizards play in primetime slots, is going to be on the rise which ultimately means more money. This season Yi averaged a career high 12 points and 7.1 rebounds per game in 52 appearances.
H/N Washington Post