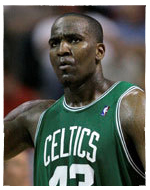 If blowing a chance to take the ultimate prize in basketball by a game sucks, then losing your starting center before you get a chance to right that wrong super sucks!
When Kendrick Perkins went down with a knee injury on a 50-50 ball vs. Pau Gasol. Things looked kinda bad since Perk called for a trainer immediately and his usually icy grill instead had expressions of pain all over it. At first, Celtics trainers thought it might be a right knee sprain, but according to ESPN sources Perkins will not play in game 7.
The official word on Perkins was a sprained right knee that will be re-evaluated Wednesday. Perkins told ESPN he hopes to play in Game 7, but a team source told ESPN.com's Chris Sheridan that the Celtics center was "done."
After getting thumped 67-89 with Perkins in the locker room, you probably think it's all but over for the Celtics and they have no chance. Well hold that though Thomas. Boston was doubted all the way to the NBA finals and somehow this team just gets it done as a unit in tough games. Ever hear that saying "The whole is greater than the sum of its parts," well that's the Celtics in a nutshell and Game 7 promises to be a dog fight regardless of who mans the pivot.
Expect extra minutes from Glen Davis, Shelden Williams and Rasheed Wallace to fill the void.