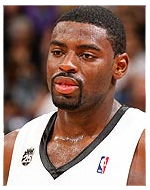 Tyreke Evans beat Stephen Curry and Brandon Jennings in the race for Rookie of the Year and if he had to drag race those two dudes for the award — I'd still like his chances. On Monday, Evans was cited for reckless driving by California Highway Patrol officers who clocked 'Reke at more than 100 mph in his 2010 black Mercedes-Benz S550 on Interstate 80 at Antelope Road.
When CHP stopped Evans they performed a felony stop with guns drawn and placed him in handcuffs until it was determined he was no threat. Evans will likely end up in court in the next 45 days from the incident for what I'm guessing will be a huge fine.
That's a pretty crazy way to start your week. The scary part for Evans must have been the whole guns drawn thing. For the officers, the scary part must have been realizing that it was Evans they had in handcuffs knowing that the Mayor of Sacramento is kind of a big basketball fan.
Slow down Tyreke!
H/N Sacramento Bee