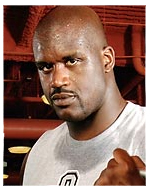 I have a hard time seeing anything that stands on two legs beating down Shaquille O'Neal, but at least now you can try.
Shaq who has already expressed his interest to UFC President Dana White about entering the Ultimate Fighter octagon. Is well on his way to mixing it up with the likes of Rampage Jackson, Rashad Evans, Chuck Liddell and Tito Ortiz, but only in video game form for now.
As part of the unlockable characters in UFC Undisputed 2010, you can see Shaq Diesel in action by going to the main menu and pressing Right, Up, Left, Right, Down, Left, Up, Right, Down, Left, X, Y, Y, X, Start. On your XBOX 360.
If entered right, you'll get a message saying "you have unlocked a new fighter". Then the next time you select an Exhibition bout, you will see Shaq as one of the heavyweight characters.
Brock Lesnar, prepare for a pixel pounding my friend.