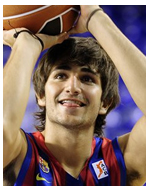 Regal FC Barcelona won the euroleauge championship yesterday and Ricky Rubio says he's glad he stayed in Europe. Of course the alternative for Rubio to winning a championship in Europe this year was joining the Minnesota Timberwolves and losing mad, mad, — mad games.
"To be in the Final Four of the Euroleague, this is where I want to be," said the recipient of the league's Rising Star Award, given annually to the best young player. "I've worked hard to make it to this goal. And this shows me that I chose the best option. I am so happy on this team. These players help me improve every day and so do the assistant coaches and other staff."
The NBA is without a doubt the best basketball leauge in the world, but since Rubio (19) is so young. It's not like he needs to make the jump to the NBA this second. Plus, playing ball in Spain beats playing ball in a rebuilding Minnestoa anyday.
H/N Star Tribune