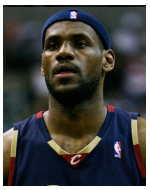 Watching the Chicago Bulls go down in flames after 5 games, was still more entertaining than watching the Toronto Raptors winning the 8th spot in the east and going down in the same amount of time or less.
Mostly because, the Raptors seemed to be already on vacation weeks before the season actually ended with the exception of Chris Bosh who was a beast. LeBron James seems to thing the Raps folded too and he called them out.
"We knew that this team [Chicago] would push us. Honestly, we wanted to play Chicago more than Toronto in this first round, because we knew we were going to get pushed a little bit more. That's not taking away anything from Toronto. But with [Chris] Bosh being out for the rest of the season, and all those injuries, it just didn't seem like they wanted to make the playoffs at the end of the season. Especially when you see the game between Chicago and Toronto in Toronto, you can tell they didn't really want to make the playoffs. When Chicago made the eighth seed, we was excited about that, because we knew we had to be in tune every possession, every game, because that team plays hard no matter the score and no matter the time, and no matter what the series is."
As far as bad publicity goes for the Raptors, LeBron's comments are right up there with SARS for would be free agents. Toronto is such an awesome city, but for whatever reason it's become a stop over for NBA talent and that's creating a super image problem.
If Chris Bosh stays, MLSE will have to severely over pay him and that's not such a bad way to let fans know that the Raptors have a plan. That whole Vince Carter thing is another issue, but even more concerning for Toronto is the fact that Morris Peterson still holds the record for the most games played in a Raptors uniform. If you want to attract free agents Toronto, concentrate on changing that piece of trivia starting with Bosh who would surpass Peterson if resigned next season.
H/N Globe and Mail