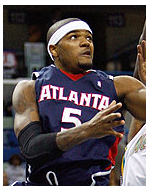 If Josh Smith and Joakim Noah ever hang out this summer, it probably won't be in Milwaukee or Cleveland. When asked what he was planning to do while in "Brew City" by reporters, Smith channeled Noah.
"There's pretty much nothing to do," Smith said. "Miami has some really good restaurants. I never really did anything in Milwaukee. I would be happy to just find a restaurant. I'm not bashing the city but I've never actually did anything in Milwaukee so I really don't know what is around there."
Announcing that you'll be looking for restaurants in a visiting city you don't like and now doesn't like you, is always a bad idea. I'm not sure if Smith is familiar with the toppings of a spit burger, spit pizza or how spit mignon is prepared — but they all have spit in them.
This delicacy is usually reserved for people who talk too much before processing a situation, like J-Smoove did. At this point, Smith is better off eating cereal in his hotel room and watching box sets of Happy Days or Laverne & Shirley in between games to avoid the dreaded spit burger combo with his name on it that has spit in the fries, drink and burger.
Enjoy fasting in Milwaukee Josh.