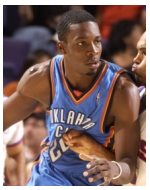 This summer Jeff Green will get a chance to join Team USA with his teammates Kevin Durant and Russell Westbrook, who were originally selected to a 27-man roster in mid-February.
"It's a good opportunity for me," Green said Monday. "It's something that I wanted and I got it. I've just got to make the best of it."
Green is now part of the NBA elite that will get the opportunity to participate in the upcoming World Championship games in Turkey and the 2012 Olympics in London.
In July the entire 27-man roster will begin try-outs in Las Vegas to determine which players will compete for Team USA this summer before the final team is selected and departs for Turkey in August.
Golden State's Stephen Curry, Sacramento's Tyreke Evans, Boston's Rajon Rondo and Detroit's Tayshaun Prince were also added to the roster today.
H/N The Oklahoman