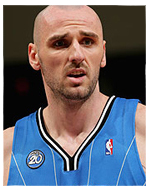 Before Orlando beat Cleveland 98-92, Magic center and Native of Poland Marcin Gortat paid tribute Polish President Lech Kaczynski and the 95 others killed in a plane crash in Russia. Gortat wrote the number of the fatal flight on his sneakers and Kaczynski's name on the tape around his wrist.
"It's very sad," Gortat said. "There were a lot of people putting our country on the right path to become one of the strongest and most powerful countries in Europe. Obviously, we pray for them."
Kaczynski and dozens of political, military and religious leaders were killed in the crash. They were Traveling to Russia to honor 22,000 Polish officers slain by the Soviet secret police in 1940.
Gortat's father, Janusz, is a retired Army officer who knew Kaczynski before he became president in 2005.
"It's a tough loss for all of us," he said.
H/T Orlando Sentinel