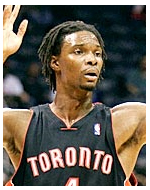 Toronto all-star forward Chris Bosh was taken to the hospital for a CAT scan after being accidentally elbowed in the face during Tuesday night's game.
Bosh dropped to the floor after he was struck by Cleveland's Antawn Jamison in the first quarter. Bosh was bleeding from the mouth and nose area as he was helped by medical personnel from both teams.
He was assisted to the locker room with 9:52 left and examined by Cavs team physician Dr. Richard Parker.
The Raptors said Bosh will go to the Cleveland Clinic for further treatment and testing. The team said the right side of Bosh's face received the most trauma.
Bosh is averaging 24.3 points and 11 rebounds for the Raptors, who entered the game holding the final playoff spot in the Eastern Conference. Toronto has a tough week ahead. After the Cavaliers, they host Boston on Wednesday and are at Atlanta on Friday.
On Sunday, they'll host the Chicago Bulls, who trail them by one game in the standings.