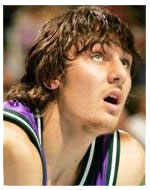 Milwaukee Bucks' Australian star Andrew Bogut was taken to hospital after crashing heavily to the floor and awkwardly twisting his elbow in the game against the Phoenix Suns.
Bogut, of Melbourne, Victoria, crashed to the court after making a dunk in the second quarter of a 107-98 Bucks' win.
The former first overall draft pick Bogut was bumped from behind by Suns Amare Stoudemire and appeared to wrench his elbow on the way down and then hit his head.
"He was in some pain, there's no question about that," Bucks coach Scott Skiles said. "But again, you can't jump to any conclusions. We'll see what happens."
Bogut appeared to be in serious pain before being helped to his feet by the team's medical staff.
Video of the injury after the jump. BTW, it's gross.