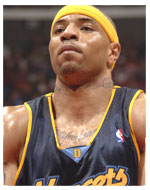 I don't know Kenyon Martin personally, but I can safely say that he doesn't strike me as a guy you would a) play a prank on or b) mess up his ride. In the spirit of April fools day, the Denver Nuggets did both of those things and it went over as well as you would expect. In other words Kenyon — not likey so much.
During Denver's 109-92 victory Thursday, a former Nuggets ball boy, Laquan Johnson, got into the club's locker room, took Kenyon Martin's car keys and filled the player's Range Rover with buttered popcorn. The car had a white interior. Martin discovered the damage as he was about to exit Denver's Pepsi Center. At the time, he had no idea who had pulled the prank. Angered, he went back to the locker room spewing profanities and threats at teammates and other members of the organization."
I picture this whole thing going down like the last half hour of Saturday Night Live for the past 35 years — absolutely not funny at all.

"That ain't no [expletive] joke," Martin said. "I'm going to find out who did it … put my [expletive] hands on one of y'all. I'm going to put my hands on whoever did it. You better believe that. It's [expletive] personal. You better believe it."
Heated up like Jiffy Pop, Martin also threaten to boycott the playoffs if somebody didn't step forward to claim the failed prank. Eventually Johnson came forward and Martin and the Nuggets are said to be okay. But what in the name of Orville Clarence Redenbacher was this kid thinking messing with the grimiest dude on the on the Nuggets squad?
I'd rather shave Mr.T's mohawk off or steal honey from a Bear then mess with that dude, but that's just me.