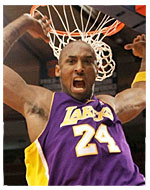 The Los Angeles Lakers have signed Kobe Bryant to a three-year contract extension rumored to be around $90 million, according to the LA Times. GM Mitch Kupchak said the reigning NBA champions have achieved two of their main goals in making sure Bryant and Pau Gasol will be with the team for some time to come.
"We are extremely pleased that we were able to reach an agreement and come to terms on the extension at this time," Lakers General Manager Mitch Kupchak said in a statement. "Kobe has been a cornerstone of the Lakers for well over a decade, helping to lead us to four NBA championships and in the process developing into one of the greatest players in basketball history."
Gasol signed his extension in December, for an estimated $64.7 million through the 2013-2014 season. Bryant is averaging 27.2 points, 5.3 rebounds and 5.1 assists this season. Lakers fans, you can now officially shout this.