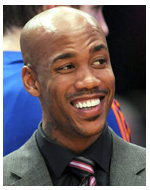 When Stephon Marbury played in the NBA, people accused him of taking bad shots, hogging the ball, and being a bad teammate. Well as it turns out, Marbury was just preparing for his first Chinese All-Star Game where years of practice earned him the MVP trophy.
Selected to the North All-Star squad representing his club Shanxi, Marbury dropped 30 points on the South at Beijing's Wukesong Arena to secure a 133-121 victory — with style.
More than just his scoring, it was his array of "no-look passes, alley-hoops and mid-court three-pointers" that won Marbury Most Valuable Player honors and rescued what had been "quite a dull game," according to the Xinhua news agency.
Mid-court threes? Awesome! The NBA could really benefit from that kinda awesomeness injection because right now, if somebody gave me a choice to see either the CBA All-Star game or the snooze fest that has become the NBA All-Star game. I would elect to stay awake and see mad mid-court bombs.
Maybe this performance will finally help Starbury sneaker sales??? You're right, probably not.
Check out 9 of Marbury's points.