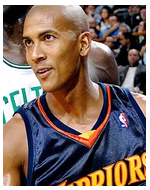 Despite the white flag hung high above Madison Square Garden since pretty much the beginning of the season.
The Knicks are still interested in tweaking their roster with only a hand full of games remaining before the summer of courting LeBron. Enter Mike D'Antoni favorite from the Suns days who's agent just happens to be a good friend of Knicks GM Donnie Walsh too.
When asked if he would consider adding Bell, team president Donnie Walsh told The Post, "If we did do something like that, it would be to show we liked him."
Bell is currently under contract with the Golden State Warriors, recovering from left wrist surgery, but will likely be waived to open up a much needed roster spot. If the Knicks get Bell, he probably wouldn't be healthy until the final four games of the season.
UPDATE
The Golden State Warriors have signed forward Reggie Williams for the remainder of the season and have waived guard Raja Bell to reduce their roster to 15 players.
H/N NY Post