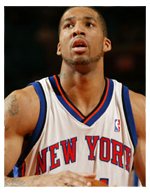 Word that Wilson Chandler could miss the rest of the season is hardly reason to panic for Knicks fans or Mike D'Antoni who is kinda — meh about the prospects of Chandler being shut down for what's left of the '09-10 season.
"If it's the rest of the year, it's the rest of the year," D'Antoni said, "It's kind of tough sometimes because a lot of people don't know," Chandler said of playing through his injury, which he said he first suffered two months ago.

"For the most part, I'm just going to do whatever I can do to help the team win."
Chandler has been one of the few bright spots in the Knicks terrible season and figures to be apart of the grand Knicks plan for the '10-11 season.
H/N Greenwich Time