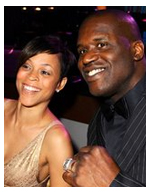 Shaquille O'Neal and his estranged wife Shaunie O'Neal have finalized their divorce according to TMZ.
Both parties have reached agreement on various issues including property, child custody and support. Which basically means Shaq's new alias will be "The Big-Alimonius".
Under the agreement, the Florida courts will have jurisdiction to officially divorce the couple and handle any issues that may arise involving property division and spousal support.
California courts will have jurisdiction over any issues related to child custody.
On November 10, 2009, Shaunie filed an intent to divorce, citing irreconcilable differences.