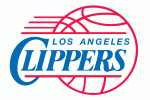 New Clippers GM Neil Olshey originally moved to Los Angeles to become an actor and instead he ended up being named GM of the LA Clippers which is also a role largely based on fiction.
While in New York"scouting" the Big East Tournement, Olshey spoke to Clippers' owner Donald Sterling and team President Andy Roeser via phone and learned he would be assuming Dunleavy's duties, moving up from the position of assistant general manager, which he had held since the start of last season.
Olshey who has had bit roles on shows like "All My Children" credits the late star of 'Law & Order' Jerry Orbach with the advice that eventually led him to the NBA.