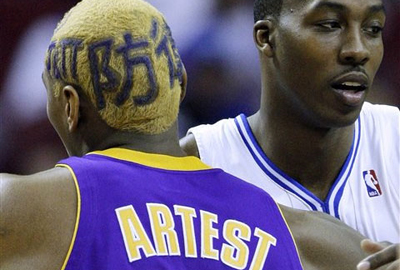 Ron Artest went positively Rodman / Demolition Man against the Orlando Magic and no he didn't grab 20 rebounds, kick a camera man, date Madonna or agree to do a cheesy flick starring Sylvester Stallone, but he did dye his hair blonde and to make it Rodman 2.0 like, had the word "defense" shaved into his hairdo in three different languages — Japanese, Hebrew and Hindi in purple.
So far with the new look the Lakers are 0-1, and my Japanese, Hebrew and Hindi reading has vastly improved.
More looks of the new "do" if you dare below.
H/N Ron Artest