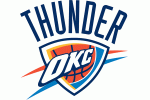 The Oklahoma City Thunder have signed Antonio Anderson to a second ten-day contract, the team announced Friday.
Anderson is a free-agent call-up from the Rio Grande Valley Vipers of the NBA Development League. He was initially called up February 22nd and has appeared in one game, playing 15 minutes during Wednesday night's 119-90 loss at Denver.
Anderson scored two points and had one rebound in the game.
With Rio Grande Valley, the 24-year-old guard averaged 15.5 points, four rebounds, 5.9 assists and 1.3 steals in 32 games.