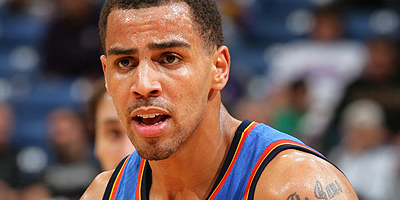 Canvasing to see who ultimately wants to take a beating from the US in the FIBA World Championships in Turkey this summer, is full throttle worldwide and the Swiss national team wants native Thabo Sefolosha to join their fight — to take silver.
This is probably a good idea because I couldn't name another Swiss basketball player other than Sefolosha if Regis gave me 20 life lines and a lunch date with Kelly for extra motivation (looking good girl).
Sefolosha, however, said he's undecided on whether he'll participate with the national team and said the final decision will depend heavily on how his body feels following this season.

"I haven't thought about it much yet," Sefolosha said. "I don't know if I'm going to play with the national team or not. We'll see."
The fact that a Swiss player is neutral on anything is kinda ironic, don't ya think. But then again, maybe it's not — but then again, maybe it is. I don't know, I'm on the fence with this one.
H/N The Oklahoman