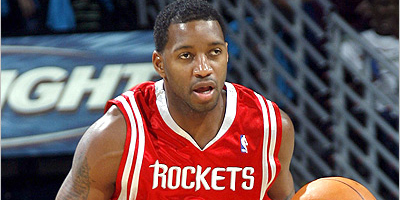 According to a NBA players poll, new acquired McGrady of the New York Knicks was ranked as the most overrated player in the league receiving 9% of the 173 votes cast, beating Indian Pacers swingman Danny Granger by 4%.
New teammate Al Harrington of also received one vote. Shaquille O'Neal, David West and suspended Wizards guard Gilbert Arenas received 3% of the dubious distinction and 2010 All-Stars LeBron James, Kevin Garnett, Paul Pierce, Dwyane Wade and Gerald Wallace all received more than one vote each.
It's a good thing that overrated list are usually overrated. See who made the top 5 of this list sponsored by Haterade, quenching the thirst of mediocre talent since the inception of free agency.
Based on a survey of 173 NBA players
Tracy McGrady, Rockets G/F 9%
Danny Granger, Pacers F 4%
LaMarcus Aldridge, Trail Blazers F 3%
Andre Iguodala, Sixers G/F 3%
LeBron James, Cavaliers F 3%
H/N SI