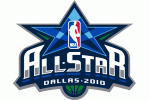 Much like every single album that has come out in the last 10 years, the 2010 all-star reserves list has been leaked and Yahoo! Sports has obtained the list to be reveled Thursday night in their NBA logo sports mug.
The Eastern Conference reserves include Paul Pierce and Rajon Rondo from the Boston Celtics, Toronto's Chris Bosh, Charlotte's Gerald Wallace, Chicago's Derrick Rose and Atlanta's Joe Johnson and Al Horford.
The Western Conference reserves include Utah's Deron Williams, New Orleans' Chris Paul, Los Angeles Pau Gasol, Oklahoma City's Kevin Durant, Dallas' Dirk Nowitzki , Zach Randolph from Memphis and Brandon Roy from the Portland Trail Blazers.
David Lee, Carlos Boozer, Marc Gasol, Josh Smith, Chris Kaman, Monta Ellis and Chauncey Bilups will all have to wait for next season.
H/NÂ Yahoo! Sports