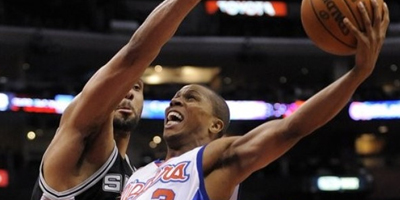 The Clippers will have to do without Sebastian Telfair for the next four to six weeks after he was diagnosed with a torn right adductor longus muscle, suffered in the Clippers' victory over Chicago on Wednesday. To help fill the void in the LA backcourt, the Clips signed JamesOnCurry straight outta the D-League, to a 10-day contract and waived injured guard Kareem Rush according to the LA Times.
"JamesOn has been a proven scorer at the college and NBDL levels and has shown consistent improvement in his ability to run a team." said Clippers GMÂ Neil Olshey.
Curry is slated to make his Clippers debut in Washington D.C. on Sunday against the Wizards after his team visits the White House and President Barack Obama.