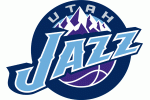 Paul Millsap has left the Utah Jazz's game at Miami after getting hurt trying to defend Heat center Joel Anthony.
The Jazz said Millsap needed 10 stitches in his upper lip and mouth. The forward also was diagnosed with a mild concussion after he departed with 5:49 left in the third quarter Wednesday night.
Millsap left with four points in 14 minutes. There was no immediate word on his availability for Utah's next game, Saturday at home against Philadelphia.