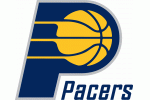 Indiana Pacers forward Danny Granger will be out of the lineup at least four to six weeks with a torn right plantar fascia, the team announced on Tuesday.
Granger sat out practice on Monday, then left Conseco Fieldhouse to get an MRI, which confirmed the injury on Tuesday.
The 6-foot-8 forward, who has been slowed by a heel bruise since the preseason, aggravated the foot in the Pacers' 88-72 setback at the Los Angeles Clippers on Saturday.
In 17 games this season, Granger is averaging a team-best 24.4 points to go along with 6.1 rebounds per game.