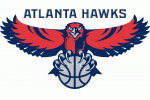 Hawks guard Mike Bibby's sprained left ankle is very sore, but he is "day to day," team spokesman Arthur Triche said Sunday.
Bibby was injured in the the first quarter and played just five minutes of the Hawks' 96-88 loss to New Orleans Saturday night. The loss broke the Hawks' seven-game winning streak.
The Hawks' next game is Thanksgiving night at home against Orlando.