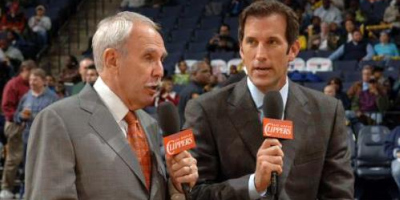 Wow, even the Clippers broadcast team is way below mediocre. Clippers announcers Ralph Lawler who has been the voice of the Clippers for 31 season and analyst Mike Smith, were suspended by Fox for their negative comments regarding Hamed Haddadi of the Grizzlies.
The comments too place during their broadcast on Wednesday in Memphis and after a viewer complained, Fox Sports Prime Ticket cable network took action. Haddadi is the first Persian born player to play in the NBA.
After the jump, read the exchange Smith and Lawler had when Haddadi entered the game, that got them deservedly suspend.
Smith: "He's the first Iranian to play in the NBA."
Lawler: "There aren't any Iranian players in the NBA."
Smith: "He's the only one."
Lawler: "He's from Iran?"
Smith: "I guess so."
Lawler: "That Iran?"
Smith: Yes.
Lawler: "The real Iran?"
Smith: "Yes."
Lawler: "Wow. Haddadi — that's H-A-D-D-A-D-I."
Smith: "You're sure it's not Borat's older brother?"
Smith: "If they ever make a movie about Haddadi, I'm going to get Sacha Baron Cohen to play the part."
Lawler: "Here's Haddadi. Nice little back-door pass. I guess those Iranians can pass the ball."
Smith: "Especially the post players.
Lawler: "I don't know about their guards."
It's official, the Clippers organization stinks on every level now.
via Press Release