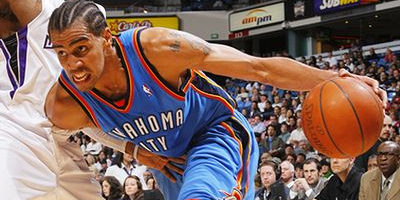 Thabo Sefolosha, the only Swiss to play in the National Basketball Association (NBA), has signed a four-year contract extension with the Oklahoma City Thunder. "It's definitely a great feeling to be able to stay," Sefolosha said of the deal, the terms of which were not disclosed.
Sefolosha, who is 25 years old, played in Switzerland, France and Italy before being drafted to the Chicago Bulls in 2006.
The 1.96-metre guard was traded to the Thunder in February this year after seeing his role with the Bulls diminish.