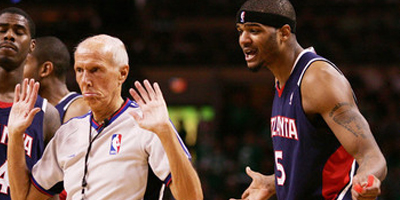 When I boo a ref, I want to make sure he's a seasoned professional thats been booed and heckled by thousands on a weekly basis for decades. To me, booing a replacment ref is kinda like yelling at kid at a cash register with a "Trainee" badge for screwing up my change.
So it's music to my ears that the NBA and it's referees reached agreement on a two-year contract, ending a month long lockout saving the league from using replacements when the season starts.
"We are pleased to reach this agreement," NBA commissioner David Stern said in a statement. "The negotiations extended further than either side had hoped, but when our regular season tips off on Tuesday we'll have the best referees in the world officiating our games."
I so can't wait to boo Dick Bavetta, Steve Javie and Violet Palmer because they're qualified to deserve it.