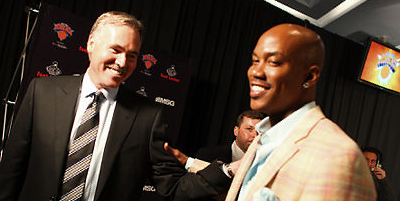 Stephon Marbury has now officially said that he'll take this season off. Whether that decision is based on a lack of interest from NBA teams, a need to build his empire or because the la hasn't felt his system yet. I'm pretty sure when he returns, it won't be for the Knicks — who already hate him, after his comments regarding his former team calling them a "mess" and Mike D'Antoni "horrible".
That's right Roxanne, the pot is now calling the kettle black.
"I'm just talking as a fan and New Yorker who grew up loving the Knicks: why would I give you my money to watch them?" Marbury told The Post. "This is atrocious. Guys coming down court, just raising up 3-pointers from anywhere. The coaching is horrible. What kind of coaching is this?

"If they shoot like that in the game, imagine how they shoot in practice. New Yorkers deserve better decisions form the front office and New York City has to deal with this mess."
Tell us how you really feel Steph.
via New York Post