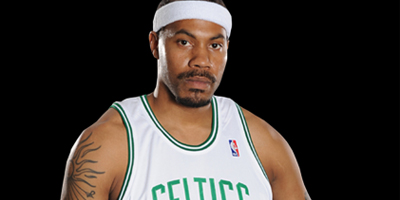 Kevin Garnett thinks the '09-10 version of the Celtics, could be one of the greatest teams in NBA history with the addition of Rasheed Wallace. Sheed went a tad further and attached a number to that greatness, by saying "I think we can get that Bulls record." Of course the "Bulls record" Sheed is referring to is the 72 win season the '96 championship Bulls squad had, with some guy named Michael Jordan.
Oh definitely. Definitely, playing with those three other guys, also combining that with the guys we have on the bench, I think we can definitely can. Me personally, I think we can get that Bulls record. You know we have the talent for it. We have the will for it and…I think we have the defense for it. Because honestly, I really do feel that. That was a good team. They had some HOFs  on there, but we have a few on this team, too.
Who am I to say this Celtics team can't do it. It's realistic that the C's could win 72 games which would be only 10 more wins than last years C's team with a banged up KG and with the addition of Sheed. Boston officially has the team with the highest basketball IQ in the league. So lets see how this thing plays out.
Via Connecticut Post