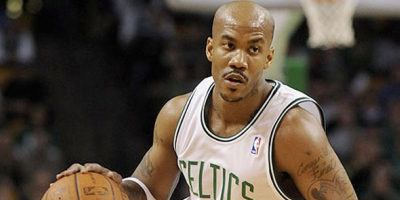 You have either got to be an ill lyricist like NAS or a crazy man to throw battle rhymes at Jay-Z. Enter, Stephon Marbury MC Starbury.
Proving that old beefs die hard. Marbury has been going at Jay-Z lately because of lyrics from Jay-Z's single released in 2000-freakin'-3, "La, La, La" where HOV said, "Don't confuse me with Marbury out this bitch / run up on me at the light, you could lose your life.
So last week, Marbury called Jay-Z a camel (I guess he reads Bossip) and now he dropped a few bars of anti-Jay-Z lyrics on the Internet saying.
"Million for your bullshit…album/yes I said it/that's my story/thank you Jay-Z/your rhymes old…I'm going at you/I said your name/and it rhymes with gay/you better come back/where are you homeboy?/I'm waiting for you/tried to diss Nas/and then come back and apologize."
So far, Jay-Z hasn't responded to the Dr. Seuss type diss, but my only question is how does a 20 ppg / 8 apg guy become more interested in social media instead of dropping dimes and scoring at will? Will Dr. Phil, Deepak Chopra, Oprah, Archbishop Don Magic Juan, or Ricki Lake please talk to this dude.
Via VIBE