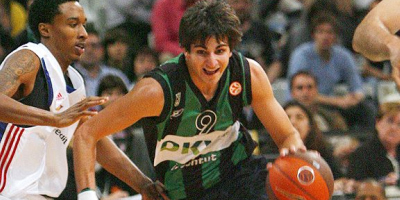 Although there remains a strong possibility that Ricky Rubio will play in Spain rather than Minneapolis next season, a Spanish media report Wednesday of his agreement to a six-year deal with FC Barcelona was overstated, a knowledgeable NBA source told ESPN.com.
The Spanish newspaper Marca said Regal FC Barcelona had agreed to pay Rubio's former team, DKV Joventut, 3.7 million Euros ($5.28 million U.S.) for the rights to the 18-year-old playmaker who was taken by the Minnesota Timberwolves with the fifth pick of June's NBA draft.
"Ricky Rubio hasn't signed anything. Joventut hasn't accepted anything. It's not over yet," said the source, who was briefed early Wednesday on the ever-changing landscape of the protracted, trans-Atlantic Rubio saga.
Rubio's current contract with Joventut includes a 5.7 million Euro ($8.133 million) buyout clause for both this summer and next summer. The buyout drops to zero in the summer of 2011, and Timberwolves general manager David Kahn, who has traveled to Spain this summer to negotiate with Joventut officials, has said the club is willing to wait until then for Rubio to come to the NBA.