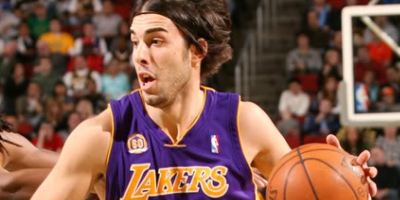 Lakers backup guard Sasha Vujacic missed two exhibition games this week with the Slovenian national team because of a left knee injury, according to a post on Vujacic's website.
That post described the injury as "minor" and added an update that he's returned to practice. "They said it's nothing serious, but the management didn't want to risk aggravating it," the article on Vujacic's website stated.
Lakers spokesman John Black said he placed calls with Lakers General Manager Mitch Kupchak and team trainer Gary Vitti, and that "none of us know anything about it." Black said the team hasn't gotten a response from Vujacic's representatives. But he wasn't too concerned.
"If there's any kind of injury," Black said, "we're under the assumption that it's very minor."