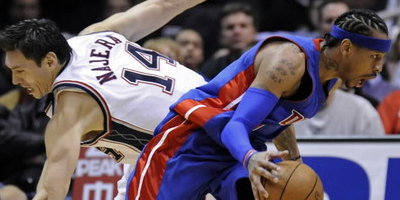 The Knicks are interested in signing every other free agent that didn't play for them last year and smart free agents just use the Knicks and the New York media to say  "Hey, remember me? Now pay me money now". So the news that Donnie Walsh met with Allen Iverson about playing in NY is about as shocking as water being wet.
The Knicks might be inclined to sign option one Ramon Sessions as early as Friday, and because signing Allen Iverson instead would be a better and cheaper choice, look for Sessions to start shopping for a Manhattan condo later this month.
Since Iverson was banished from Detroit, with a good back I might add. His phone hasn't exactly been ringing off the hook with options. Sure he's had some discussions with the Clippers and Grizzlies but let's be honest, those ain't no real options.So since the worth of Allen Iverson went Lehman Brothers, A.I is willing to accept a one-year contract that would cost the Knicks their $5.85 million mid-level exception.
While Sessions, hopes to receive a multi-year contract starting with the mid-level exception. Hmmm, so many bad decisions to make and so little time, will the Knicks ever do?
The "Answer", most likely the wrong thing.
Via NY Daily News