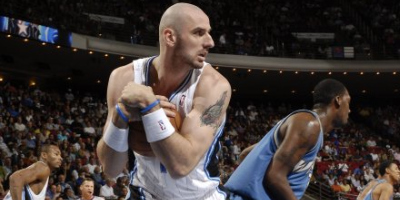 If you're a Dallas Mavericks fan with a pair of custom blue snake skin Larry Mahan Marcin Gortat rodeo edition cowboy boots on back order. Boy do I ever have bad news for you.
All of a sudden the Orlando Magic have decided to match the  Dallas Mavericks' five-year, $34 million offer sheet to restricted free-agent Marcin Gortat thus keeping him in Orlando.
"In a league that doesn't have very many centers, to have a starting center and a backup center — to hold that position down — is good," said Magic General Manager Otis Smith. "We have five years invested with him, and we do believe in protecting that asset. So bigger than anything else is what he brings to our team."
Hold down that center position? Uh, I think Dwight Howard is holding  that center position down just fine being the Defensive Player of the Year and all. Sometime being a good GM means letting somebody else over pay a player you want  too and that should have been the case with "The Polish Hammer".
Gortat is good and he'll get better over time, but so will Dwight Howard and in a few years anybody will be able  to back up D12 and for way less.
Via Orlando Sentinel