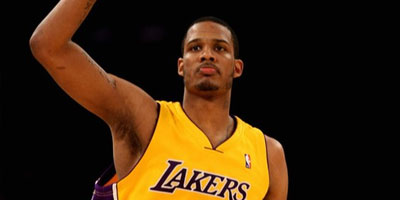 Everybody else wants to pay Trevor Ariza more money than he's worth, except for his current team the LA Lakers.
The Lakers remained far apart on negotiations Wednesday with their two main free-agent pieces, forwards Lamar Odom and Trevor Ariza. In particular, Ariza and his agent weren't thrilled by the Lakers' annual offer of $5.6 million over an unspecified number of years. Ariza, 24, was hoping for $7 million to $8 million a year. Odom, 29, is believed to be seeking $10 million a year, though it was unclear what the Lakers offered him. Ariza is drawing interest from Portland, Houston, Cleveland, Toronto and the Clippers. Of those teams, only Portland and Toronto have enough salary-cap room to offer more than the Lakers' current offer.
Ariza was huge for the Lakers this season after Odom was injured and he had a great playoff run too. That being said, he is nowhere near worth $8 million a year and the Lakers would be better off letting somebody else over pay Ariza for services.
Call me crazy.