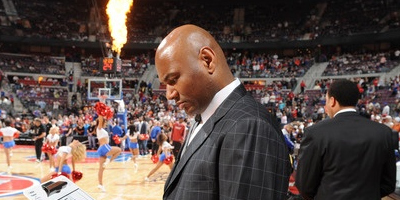 The firing of Pistons coach Michael Curry after he went 39-43 in his first year comes as little surprise.
Players, especially toward the end of the season, openly questioned game plans, as well as the many lineup changes Curry implemented. Rip Hamilton and Allen Iverson both publicly questioned Curry's decision-making.
Pistons president of basketball operations Joe Dumars said in a statement today that while it was a difficult decision, he has "decided to make a change."
The Pistons opened the season with high hopes but couldn't recover from the loss of All-Star point guard Chauncey Billups who was traded to Denver for Iverson last November.
The Pistons plummeted to the last spot in the Eastern Conference playoffs and were swept by the Cleveland Cavaliers in four lopsided games. Dumars said after the series that Curry would return. At some point, that decision changed.