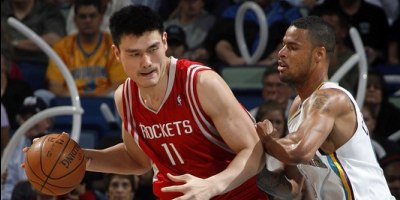 The  news regarding Yao Ming and his left foot just went from bad to worse and Tracy McGrady is starting to look about as indestructible as Iron Man in his Hulkbuster armour compared to the 7'6″ Yao.
"As the NBA draft approached, the grim truth about Yao Ming's(notes)broken left foot hung like an anvil over the Houston Rockets. The fear isn't that he's just lost for next season, but longer.
The Rockets and Yao's reps are frightened over his future, and the concern is the most base of all: Does Yao Ming ever play again? "The realization has hit them that this is grave," one NBA general manager said.
For now, the Rockets have privately told league peers it could be a full season before Yao might be able to return to basketball. Multiple league executives, officials close to Yao and two doctors with knowledge of the diagnoses are describing a troubling re-fracture of his navicular bone. Three pins were inserted a year ago, but the foot cracked in the playoffs and isn't healing."
For the sake of the entire NBA, I really hope Yao's foot heals and dude plays again, but this news doesn't sound too promising at all. The Rockets were without question the second best team in the west this past season and who knows, with a healthy T-mac and Yao they could have ended up in the finals. Now T-Mac is their best trade bait to get over the Lakers hump, Yao Ming is mash up and Ron Artest is a free agent with no reasons to stay with the Rockets.
Houston! We have mad problems!
Via Yahoo! Sports