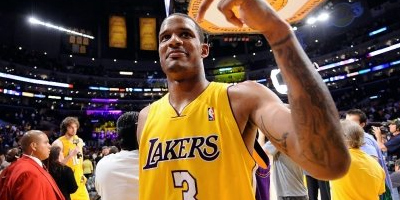 This ain't Wal-Mart! That's what Trevor Ariza and his agent David Lee are saying about negotiating a re-signing with the Lakers when Ariza officially becomes a free agent tonight, because they will not give Lakers GM Mitch Kupchak a discount.
While Ariza has maintained that he hopes to wear purple and gold again next season, agent David Lee said Monday that the Lakers won't receive any hometown discount from his client. Lee declined to reveal how much of a raise Ariza will seek when he becomes an unrestricted free agent Tuesday night at 9:01 p.m., but he said the young forward's upside should make him the most coveted wing player on the market.

Among the teams Lee expects to pursue Ariza: Detroit, Portland and Toronto, franchises with enough cap space to more than double Ariza's $3.1 million salary of last season.
Ultimately Ariza might  be too expensive for the Lakers because he's got the free agent perfect storm going to get paid a lot of planetary credits. He's young (24 years old), just won a championship, plays solid defence and GM's see a lot potential in him.
If Scott Layden or Isiah Thomas were GM's right now, they would offer Trevor Ariza a billion dollars and the Elephant Man's bones to begin negotiations. But despite Zeke and Layden not having NBA GM jobs right now, Ariza is going to get paid large!
Via Press-Enterprise