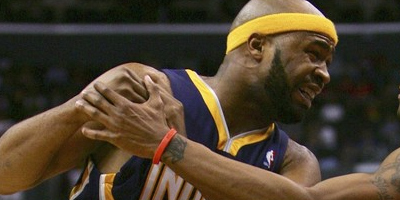 Jamaal Tinsley has been on the shelve for way to long and I think of his situation as a mid-west Marbury one. Sure he screwed up, but at the end of the day it's a business and devaluing your own roster pieces makes no sense at all. Then again, it's hard to argue with Larry Bird about anything.
The Heat — which has auditioned several potential second-round point guards (France's Rodrique Beaubois , Arkansas/Ukraine's Patrick Beverley , BC's Tyrese Rice, Gonzaga's Jeremy Pargo) — will watch for Jamaal Tinsley's July 27 grievance hearing. He could be set free in late summer if an arbitrator forces the Pacers to play him (which they won't) or buy him out.
The Heat need a quality point guard like K-Fed needs a reality cheque, so waiting for a very, very, very, very fresh legged Jamaal Tinsley makes a lot of sense. So does K-Fed being broke, especially K-Fed being broke.
Via Miami Herald