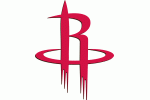 This was why the Rockets wanted Ron Artest in the first place. This was why they were willing to live with all the other stuff.
When he's at his best, he's one of those special talents, a difference-maker in every sense of the word. The Rockets believed he could help them write a different ending in the playoffs, could help end 12 years of frustration and disappointment.
There he was putting the Rockets on his back Thursday night, bulling his way into the paint for baskets, throwing in jumpers, playing lockdown defense on Brandon Roy.
Artest scored 27 points in all and was the biggest star on a night when the Rockets were almost perfect from start to finish in a 92-76 elimination of the Portland Trail Blazers at Toyota Center.
When it ended, there was a tidal wave of emotion and relief as the Rockets hugged one another amid the roars of a packed house at Toyota Center. Yes, it almost felt like old times."We're not finished," Artest said. "I'm not happy just to be out of the first round. That's not our goal here."