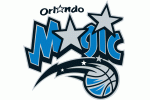 Orlando guard Courtney Lee left Game 5 against the Philadelphia 76ers on Tuesday night after taking a blow to the head. He was taken to the hospital as a precaution.
Lee took an elbow to his head from teammate Dwight Howard early in the first period. Howard soared to block a shot by Willie Green on the play and came down on his teammate. Lee was on the floor for a few minutes before going to the locker room with a towel to his head.
Orlando won Game 5 91-78. The Magic said the starting shooting guard's status for Game 6 is questionable.
Lee, a rookie from Western Kentucky, averaged 15.7 points through the first four games.