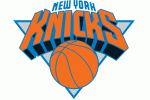 New York Knicks rookie forward Danilo Gallinari underwent successful back surgery on Tuesday and is expected to be fully recovered in six to eight weeks.
Gallinari had the laminotomy performed by orthopedic spine specialist Dr. Patrick O'Leary at the Hospital for Special Surgery in Manhattan. The procedure involves shaving the bony plate surrounding a nerve root.
Taken by New York with the sixth overall pick in the 2008 NBA Draft, Gallinari averaged 6.1 points and 2.0 rebounds in 28 games this season.