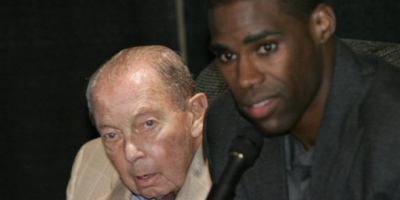 Even though the 17-58 Washington Wizards have spent the second half of the season switching places with Sacramento in the basement of the NBA standings, no one can accuse the members of Abe Pollin's organization of tanking.
Just after the All-Star break, team president Ernie Grunfeld said the Wizards would continue to battle as if they were in a playoff race.
"We have a standard that has been set, and it's important that we maintain that and continue to do everything in our power to win," Grunfeld said.
Washington Times 
Stephon Marbury couldn't help but chuckle at the notion. After a dozen years in the NBA battling the perception that he is one of the most self-absorbed players in the league, the main criticism of his game after a month in Boston is that he is not shooting enough. "They want me to shoot the ball," Marbury acknowledged following Sunday's 103-84 victory over the Oklahoma City Thunder. "But I shoot when I feel it and when it's there. I've never been a volume shooter, despite people thinking that I didn't pass the ball." 
Metrowest Daily News 
John Calipari has accepted a lucrative offer to leave Memphis for Kentucky and become the highest-paid coach in college basketball, sources confirmed to SI.com on Tuesday.
A news conference has been scheduled for 9:30 a.m. Wednesday in Lexington, Ky., to introduce Calipari.
The deal Calipari is expected to sign with Kentucky will be for eight years and approximately $35 million with bonuses included, one source said. A Memphis spokesperson said that Calipari was headed to Lexington on Tuesday evening, reportedly via a private plane arranged by the University of Kentucky. After days of deliberation, Calipari decided to jump ship on the team he coached for the past nine seasons and took to the national title game in 2008. Calipari replaces Billy Gillispie, who was fired from UK after just two seasons.
Sports Illustrated 
With the Nuggets the past six seasons, there have been all-star appearances and courtroom appearances, record blocks and a reckless brawl, little defense to a little defense to a defensive mind-set, the A.I. experiment and the cost-cutting experiment.
And now, this thrill-ride journey has brought the Nuggets to, fittingly, a peak — with Tuesday's 111-104 win against New York, the Nuggets (49-26) have their best NBA record through 75 games, and they clinched a playoff spot for the sixth straight season. 
Denver Post 
While a second season at the University of Memphis was probably not in his future anyway, freshman Tyreke Evans will certainly not stick around now that John Calipari has left for the University of Kentucky.
His brother, Julius "Doc" Evans, confirmed Tuesday that Tyreke Evans will enter the NBA Draft, where he'll likely be a first-round pick. "Coach is going to do what's best for him and his family; that's what he told me," Doc Evans said. "I totally respect what he did, but I can't comment on anything Cal does. All I worry about is us."
Evans, a 6-foot-5 guard from Chester, Pa., came into Memphis planning on spending just one year in college. After a slow start, Evans blossomed after being moved to point guard and put himself in position to leave for the NBA.
Commercial Appeal