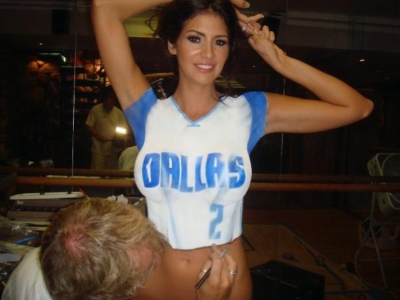 Thanks Internet! Playboys Miss April Hope Dworaczyk, dated Jason Kidd last year and rumours spread that she was pregnant with Kidd's fast break gifted offspring. However, a year has passed and she's about as pregnant as my dad and if you haven't reached the health unit in school yet, check this out. Contrary to popular pre-health unit belief. It actually takes 9 months of growth in the womb to conceive a child and no Stork is involved in the process. If that shocked you, closer to Christmas I'll tell you about Santa Claus. You'll freak.
Anyway, looking at Hope Dworaczyk in a painted on Dallas Mavericks Jason Kidd jersey at the Playboy mansion. I've decided that Jason Kidd is officially on the Derek Jeter mack level. Who's with me?
[nggallery id=147]
Behind the scene footage of Hope Dworaczyk and Seth Rogen's Playboy cover shoot, after the jump.