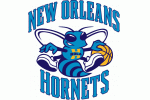 Hornets center Tyson Chandler will miss the next seven to 14 days because he will have his inflamed right ankle immobilized. Chandler will miss his fifth consecutive games tonight when the Hornets play the New York Knicks.
He did not travel with the team on the trip. The Hornets announced Friday morning that Chandler will immediately began rehabilitation after the seven- to 14- day period and the team will be giving updates on a needed basis. Chandler is expected to return before the Hornets end the regular season on April 15 against San Antonio.
Earlier this year, Chandler missed 16 games with a sprained left ankle. After his trade was rescinded with the Oklahoma City Thunder because of a previous toe injury that required surgery in April 2006, Chandler played in 12 games before he sat out his first game on March 18 with an inflamed left ankle.